The reliable, optimized, and always up-to-date

knowledge base for agents
Smart Knowledge revolutionizes knowledge management with its approach based on generative AI and semantic search, ensuring that your agents have access to the right information at all times.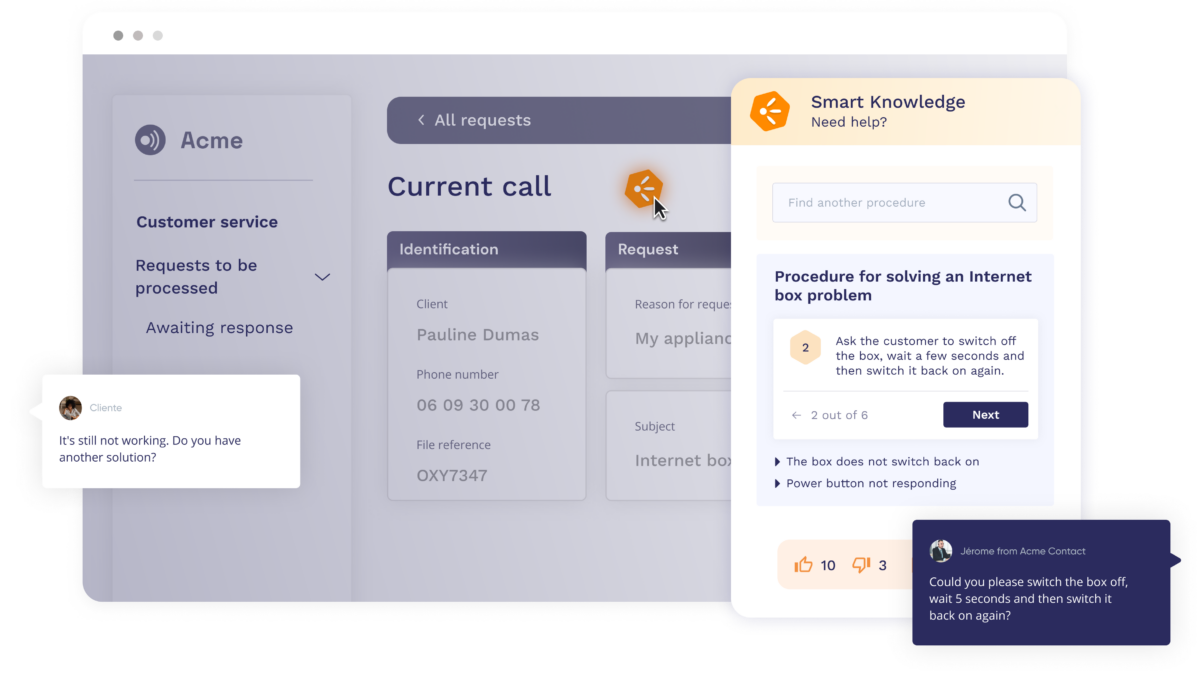 Ensure reliable and controlled management of your knowledge
Use cases for Smart Knowledge
Organize
Smart Knowledge allows you to centralize, harmonize, and distribute your business knowledge to your collaborators with ease.
Retrieve
With the NLP search engine, AI advisor chatbot, and decision trees, your agents can instantly find the right information.
Update
Your contents are kept up-to-date thanks to obsolescence alerts and agent feedback. Smart AI speeds up revision by generating content based on your documents.
Train
Speed up the training of your agents with guided procedures and practical sheets to ensure an effective skill development.
Structure and share your knowledge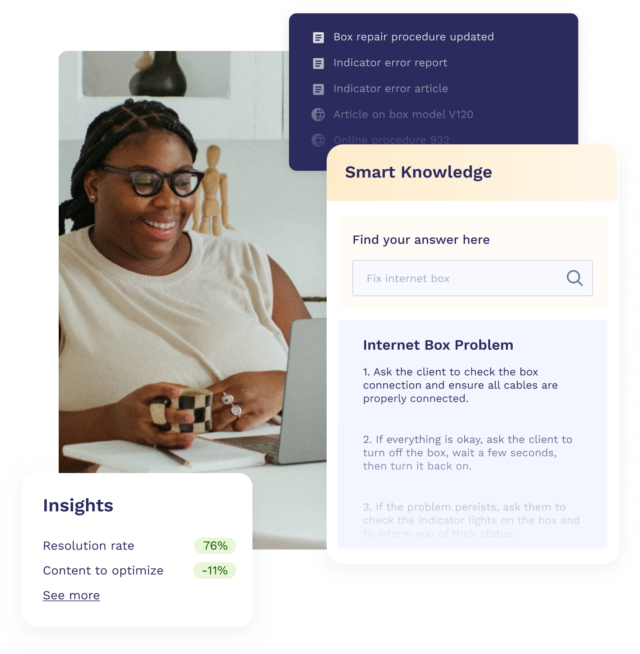 With a strong sensitivity to customer contact rates, Ouigo continues to invest in improving its customer self-service solutions. We see these tools as a win-win for both our customers and our brand.

Cécile Delalieu Head of Customer Relations @OUIGO
The AI solution for knowledge management
Content management
Make updating your knowledge easier with a comprehensive and intuitive content management system, featuring advanced editing capabilities, validation, scheduled publishing, and highlighting of crucial information.
Obsolescence management
Don't let information become outdated. Use our alert system to know exactly when it's time to refresh your content, ensuring the reliability and accuracy of your data.
Multilingual Translation
Extend the reach of your knowledge to an international audience. Easily manage the translations of your content in over 100 languages, relying on Smart AI for flawless precision.
AI search engine
Speed up information retrieval with our NLP search engine or our generative AI chatbot, so your agents can quickly find the right information directly in their daily customer service tools.
Interactive guides
Simplify decision-making and encourage autonomous problem resolution with decision trees, making complex information more accessible and understandable.
Performance statistics
Make informed decisions based on data. Gain valuable insights into your agents' needs, content creation, and critical points for improvement with Smart Knowledge's advanced analytics.
A multitude of channels to disseminate knowledge
Internal channels
Knowledge base for agents
Browser extensions – Chrome, Firefox, Edge
External channels
External FAQ
Chatbot
Third-party customer service tools – ticketing, CRM
Groupe Bayard
Smart Knowledge results
÷2
the time for agents' skill development
1.5 months
to reach the target AHT
Frequently asked questions on Smart Knowledge
The pricing of Smart Knowledge varies based on the specificity of your needs. We suggest you to contact our experts via our demo page to discuss your requirements and receive a personalized quote.
We are agnostic and offer connectors for Salesforce, Microsoft Dynamics, Easiware, as well as APIs. Specific connectors can also be developed to adapt to your third-party solutions.
Yes, we provide a minimum SLA of 99.5%, ensuring optimal availability and reducing your maintenance concerns.
We take data protection very seriously. Your data is processed in Europe and fully complies with GDPR standards, ensuring security and compliance.
Transform your knowledge management with Smart Knowledge
Simplify knowledge sharing and strengthen your customer service team's skills with Smart Knowledge.