Smart FAQ

Provide better answers, instantly

Smart FAQ is the most powerful dynamic FAQ available today, an ROI-positive solution capable of reducing contact centre requests by 40% and decreasing overall customer support costs significantly.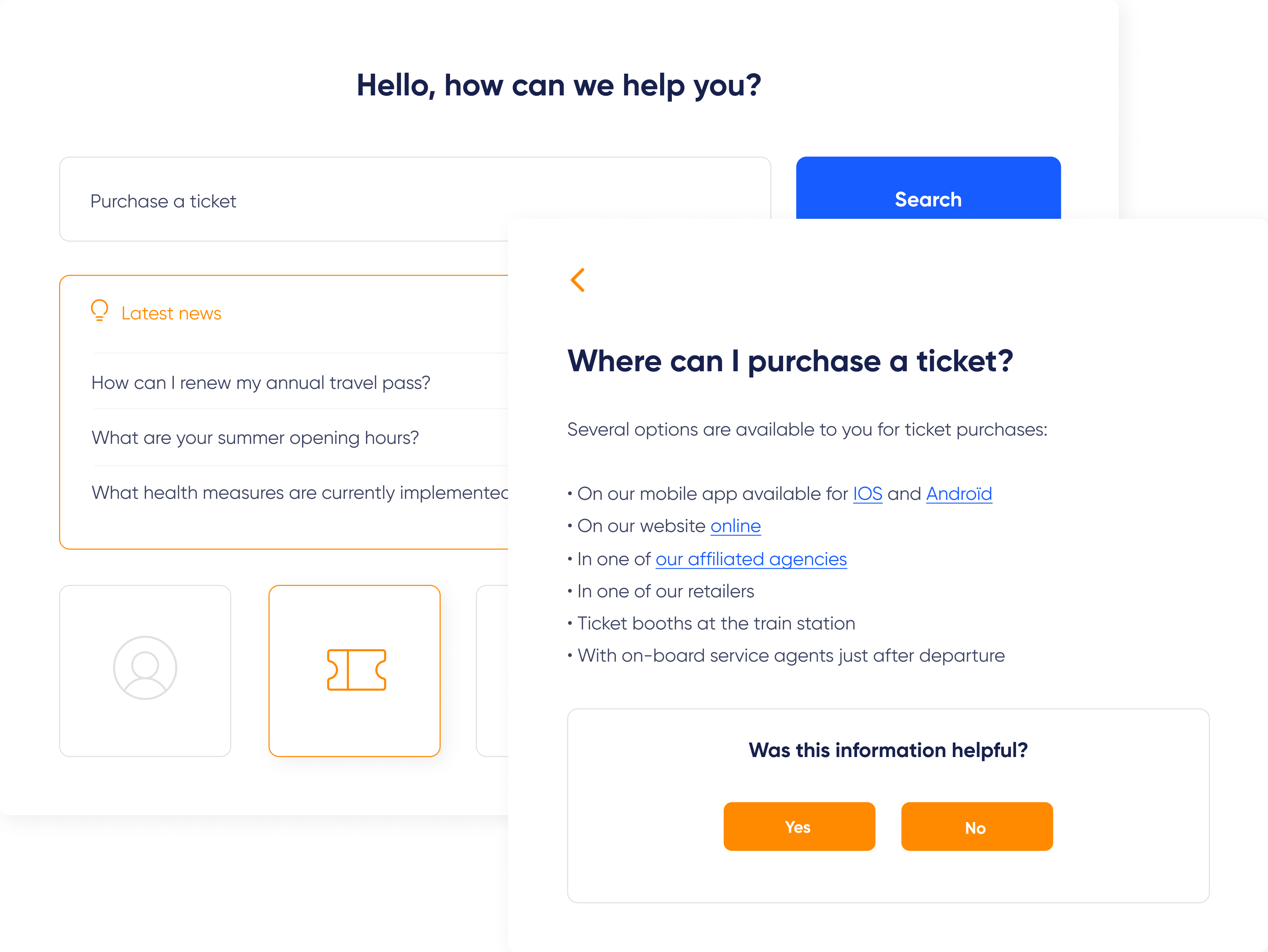 The right information
at the right time
Smart FAQ is SEO-optimised and powered by the latest natural language search technologies to put useful knowledge base content at your customers' fingertips—around the clock and on any device.
Say 'good-bye' to generic FAQ content
Your customers aren't one-size-fits-all. Your responses shouldn't be either. Smart FAQ not only helps them answer up to 70% of simple questions on their own, but it can also adapt parts of the responses offered based on pertinent details in a customer's profile. The end result: a more effective and manageable way to provide a higher degree of personalisation at scale.
Ridiculously helpful customer service
Offer customers the help they need, in multiple languages, whenever and wherever they need it, all without ever disrupting the brand experience one bit. 
Do it all (and more) from
the
Smart Dashboard
This is where the "magic" really happens.
Consider Smart Dashboard your central hub for managing knowledge base content—across multiple brands languages, and channels—to tackle your customers' needs efficiently, day in and day out.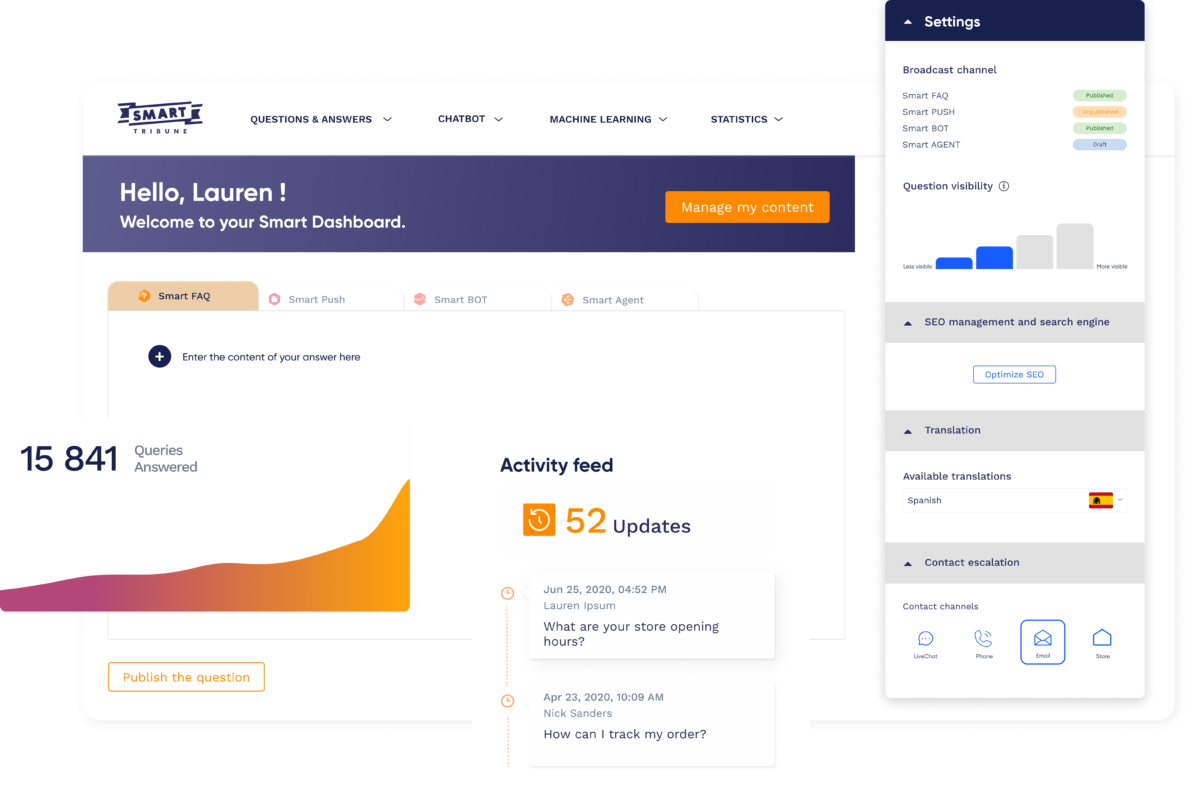 The dynamic FAQ solution helps our customers grasp the basic elements of our product offering, allowing our advisors to only intervene on more complex interactions.

Vincent Chapellier Head of Digital Marketing @Banque Populaire Nord

The dynamic FAQ has been extremely helpful to us during the second lockdown, and we regret not having had it during the first lockdown, to better reassure our customers.

Maxence Gerard Omnichannel Director - Europe & Africa @Club Med

Frequent bad weather in 2019 and the impact of COVID-19 have caused significant disruptions to our services and have resulted in an increased number of support requests. Our dynamic FAQ has helped reduce the strain on our teams whilst helping us to better understand where passengers encounter difficulties on our site.

Caroline Cagninacci Digital Marketing Manager @Corsica Linea

We are very satisfied with our collaboration with Smart Tribune, both for the performance of their dynamic FAQ solution but also for their understanding and support of our unique requirements.

Thierry Moussu Head of Digital Relations @Direct Energie

Smart FAQ has allowed us to reduce support requests by 46%. Soon, this solution will also allow us to review our customer contact request process and eventually reduce the time it takes to classify user requests.

Karim Mérovil Support Team leader @FFF

Smart FAQ has increased our search engine visibility and improved our questions/answers thanks to user feedback and has allowed us to focus on more complex support requests.

Christophe Delattre Chief of Industrialisation Project Services @In Goupe

Smart Tribune's centralized FAQ solution is practical, dynamic and customizable to different pages, profiles, customer journeys... It helps our customers easily find the answers they are looking for.

Jérémie Croyère Chief Marketing & Product Officer @Linxea

During lockdown, without the dynamic FAQ in place, our customer service team would have had to process 3 times the amount of support requests.

Laëtitia Angot Head of Customer Experience @Nature & Découvertes

With a strong sensitivity to customer contact rates, Ouigo continues to invest in improving its customer self-service solutions. We see these tools as a win-win for both our customers and our brand.

Cécile Delalieu Head of Customer Relations @OUIGO

The Smart FAQ is a central reference point on our site. In many ways, it is our 24/7 online support agent, indispensable in helping drive new sign-ups whilst also helping and reassuring our online visitors.

Vanessa Girard Responsable Digitale France @Vattenfall

Smart FAQ helps us resolve issues relating to our over 400 products - each article helps resolve a unique issue that could impact one or many of our toys.

Sandrine Roucheray Digital Marketing Manager @Vtech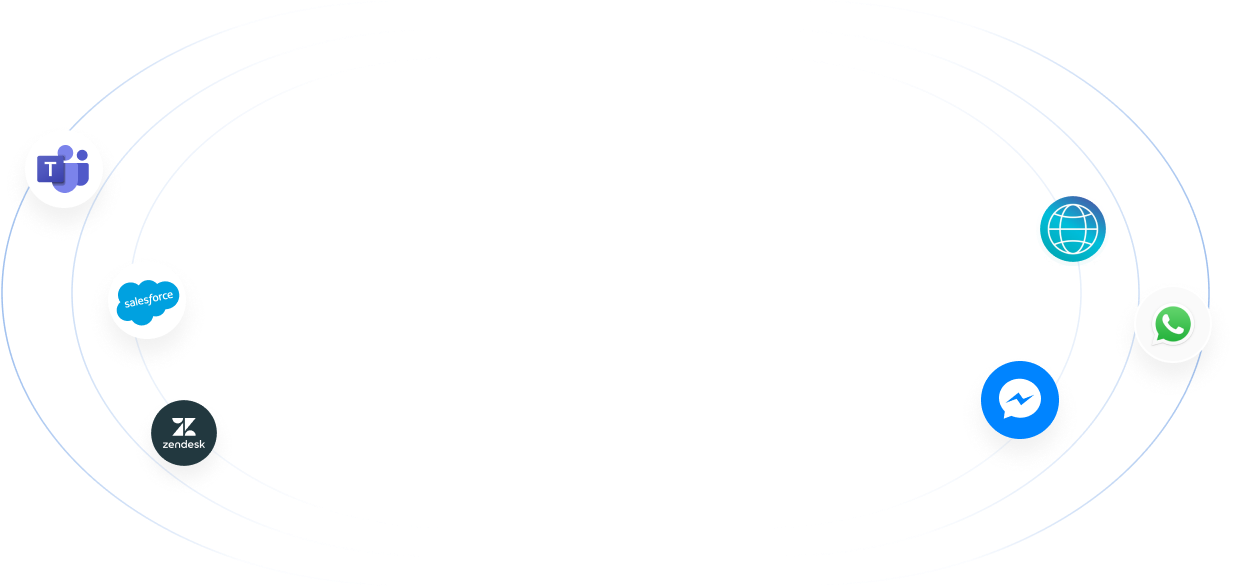 Let Smart FAQ fuel your total customer service experience
Our customer self-service solutions connect seamlessly to the entire ecosystem of third-party platforms and apps you already use to manage your customer relationships.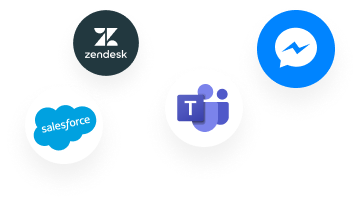 Have a question about Smart FAQ?
It's simple! To set up Smart FAQ on your website, all you need to do is integrate a javascript snippet into the code of the page in question.
Smart Tribune takes security very seriously. Our SaaS solutions, (hosted on infrastructure located in Europe), adhere to the latest security standards: SSL A+, Bearer Token...
Smart FAQ is 100% responsive and automatically adapts to a user's device.
To get a personalized demonstration of our Smart FAQ tool, fill out the form on our "Product Demo" page. One of our experts will contact you to schedule an appointment according to your availabilities.
Be the source of your customers' happiness
Explore Smart Tribune's complete suite of fully-customisable customer self-service solutions.
Out with the old in with the dynamic FAQ